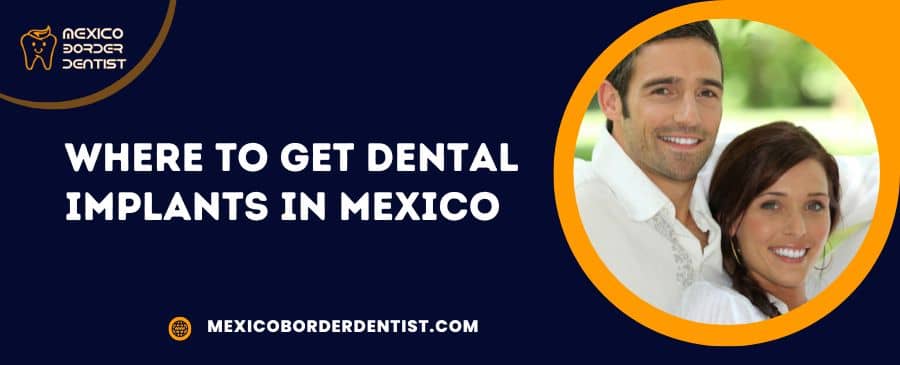 Your Ultimate Guide to "Where to Get Dental Implants in Mexico" 
Dental implants have become increasingly popular as a long-lasting solution for missing teeth. However, the high costs of dental procedures in countries like the United States and Canada have led many people to seek more affordable options abroad.
Mexico has emerged as a top destination for dental tourism, offering high-quality dental care at a fraction of the cost. In this guide, we'll explore where to get dental implants in Mexico, how long it takes, and provide essential tips for a successful dental vacation.
Many people are concerned about the quality of dental care they might receive in Mexico, but with thorough research and planning, it is possible to find highly qualified dentists and state-of-the-art facilities. We'll discuss the benefits of choosing Mexico for dental implants, the best destinations, and everything you need to know to make an informed decision.
Why Choose Mexico for Dental Implants?
Lower costs are the primary reason people choose Mexico for dental implants. Prices can be up to 70% lower than in the US or Canada, without compromising the quality of care. This means you can get the same level of expertise and equipment for a fraction of the price.
Shorter waiting times are another advantage of getting dental implants in Mexico. In many cases, you can get an appointment within a week or two, making it much faster than waiting for an appointment in your home country.
The Question here is "how long does it take to get dental implants in Mexico," and the answer is surprisingly quick. Patients can usually expect the entire process, from consultation to the final implant placement, to take only a few weeks to a couple of months.
Top Destinations for Dental Implants in Mexico
Mexico offers a wide range of destinations for dental tourism, each with its own unique appeal. Here are some of the most popular places to get dental implants in Mexico:
Tijuana: Just a short drive from San Diego, Tijuana is a bustling city with numerous dental clinics specializing in dental implants. With easy access to the US and a variety of accommodation options, Tijuana is a convenient choice for many.
Cancun: Known for its beautiful beaches and vibrant nightlife, Cancun is also home to several top-notch dental clinics. Combining your dental treatment with a relaxing vacation is a great way to make the most of your trip.
Los Algodones: Also known as "Molar City," Los Algodones has more dental clinics per capita than any other city in the world. Its close proximity to the US border makes it an attractive destination for dental tourists.
Guadalajara: As Mexico's second-largest city, Guadalajara boasts a rich cultural history and numerous high-quality dental clinics. The city's advanced infrastructure and range of tourist attractions make it a fantastic choice for dental tourism.
Mexico City: The country's capital and largest city, Mexico City offers a wealth of historical and cultural attractions alongside its excellent dental facilities. With many highly experienced dentists and state-of-the-art clinics, Mexico City is a top destination for dental implants.
Puerto Vallarta: This popular coastal resort town is known for its stunning beaches, charming old town, and growing number of high-quality dental clinics. Puerto Vallarta is an excellent option for those seeking a relaxing dental vacation.
Choosing the Right Dental Clinic
When selecting a dental clinic in Mexico, it's crucial to do your research. Look for clinics with positive reviews, modern facilities, and experienced dentists who are trained in dental implant procedures. Don't be afraid to ask for credentials, before-and-after photos, or references from previous patients.
Another important factor to consider is the quality of materials and technology used at the clinic. Make sure they use high-quality dental implants from reputable manufacturers and have access to advanced dental technology such as 3D imaging and computer-guided implant placement.
Cost of Dental Implants in Mexico
The cost of dental implants in Mexico can vary depending on factors such as the clinic, the dentist's experience, and the materials used. On average, a single dental implant can cost between $700 and $1,500 in Mexico, compared to $3,000 to $5,000 in the US or Canada. This significant price difference can result in significant savings, especially for patients requiring multiple implants.
It's important to get a detailed treatment plan and cost estimate before committing to a specific clinic. This will help you understand what's included in the price and avoid any unexpected expenses during your trip.
Preparing for Your Trip
Once you've chosen a clinic and scheduled your appointment, it's time to start preparing for your dental vacation. Here are some things to consider:
Travel arrangements: Book your flights and accommodations well in advance to secure the best prices. Make sure to factor in enough time for consultations, treatments, and any necessary follow-up appointments.
Passport and visa: Ensure your passport is valid for at least six months beyond your intended stay in Mexico. Most tourists from the US, Canada, and the EU do not require a visa for stays up to 180 days, but always double-check the latest entry requirements.
Travel insurance: Purchase travel insurance that covers dental treatments abroad, as well as any potential travel disruptions or medical emergencies.
Medical records and X-rays: Bring copies of your dental records, including recent X-rays and any relevant medical history, to share with your dentist in Mexico.
Travel Tips and Safety Considerations
While Mexico is generally safe for tourists, it's essential to be aware of your surroundings and take necessary precautions. Here are some tips for a safe and enjoyable trip:
Stay in tourist-friendly areas: Choose accommodations in well-traveled areas with good security measures in place.
Be cautious with your belongings: Keep your valuables secure and avoid displaying expensive items or large amounts of cash.
Use reputable transportation: Arrange transportation through your hotel or a trusted service, and avoid hailing taxis off the street.
Follow local laws and customs: Familiarize yourself with local customs and laws to avoid any misunderstandings or issues.
Stay connected: Keep your phone charged and carry a portable charger in case of emergencies. Share your travel itinerary with friends or family back home.
Aftercare and Follow-up
Proper aftercare is crucial for the success of your dental implants. Follow your dentist's instructions for post-operative care, including pain management, oral hygiene, and any dietary restrictions. Schedule follow-up appointments as needed, either with your dentist in Mexico or a local dentist in your home country.
Maintain good oral hygiene and regular dental check-ups to ensure the long-term success of your dental implants. If you experience any complications or concerns, don't hesitate to contact your dentist for guidance.
Advise 
With careful planning and research, getting dental implants in Mexico can be a cost-effective and enjoyable experience. By following this guide, you'll be well-prepared for your dental vacation and can look forward to a new, confident smile. So go ahead and explore the possibilities of where to get dental implants in Mexico