Overview of Dental Bridges in Mexico
The smile is an important feature for each and every individual. Missing or damage teeth affect not only one's appearance, but can lead to a number of speech problems and diseases. Bridges act like permanent dentures or implants, helping replace teeth that have fallen out. There are several types of Dental Bridges in Mexico available to choose. Dental Bridge Cost in Mexico also depends upon the type of Dental Bridge you choose.
A dentist will consider how well the patient's gums or jaw structure is. Will be able to accommodate artificial teeth or crowns. Resin-bonded bridges are use with the replacement of front teeth as long as the surrounding teeth and gum tissue are healthy.
Dental Bridge in Mexico Procedure:
Traditional (Fixed) Bridge – they are made of porcelain fused to ceramics or metal and the procedure involves creating a crown for the tooth or implant on sides of the missing tooth with a pontic (bridge) in the middle.
Removable Bridges (also known as removable partial dentures) – they have replacement teeth attached to gum-colored plastic bases that are connected by metal framework. The removable dentures are attach to the patient's natural teeth with metal clasps or precision attachments. Claspless removable bridges are another alternative for better support and aesthetics. Bridges with crowns on the patient's natural teeth can enhance the way a removable bridge fits in the mouth.
Cantilever Bridge – it is used when the teeth are present on only one side of a missing tooth/teeth.
Resin Bonded Bridges – they are made of plastic teeth and gums that are supported by metal framework held in place by "wings" bonded to existing teeth.
How much Dental Bridge Cost in Mexico?
Dental Bridge Cost in Mexico can vary depending on several factors, such as if any other additional treatments is need. The materials used in a bridge can also affect the cost, as well as the quality of work done by the laboratory in the making of the bridge.
Here are some examples of packages presenting Dental Bridge Cost in Mexico:
Dental Bridges in Mexico
| City | Cost |
| --- | --- |
| Los Algodones | $350 |
| Tijuana | $600 |
| Playa Del Carmen | $1040 |
| Mexico City | $1013 |
In the situation when surrounding teeth are decayed or broken, the dentist will build them back up in order for them to be able to support the bridge. Fixed and cantilever bridges require shaping the teeth on either side of the missing tooth. In order for it to fit the crown that will afterwards cover the shaped teeth. The crowns are attach to either side of a pontic, or the artificial tooth, that will fill the missing gap.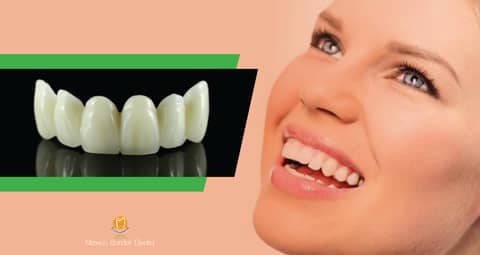 Eligible candidate for Dental Bridges
The best candidates for Dental Bridges include patient who:
are missing a tooth but practice good oral hygiene
have teeth and gum tissue that are healthy enough to support bridgework
Benefits of Dental Bridges in Mexico:
bridges are able reduce the risk for periodontal disease, temporomandibular joint disorder and even tooth decay
they also restore chewing and speaking ability for many individuals, as well as evenly distributing bite pressure and alignment
Dental Bridge Cost in Mexico is low as compare to other countries
Schedule your dental appointment now and get your Dental Bridges!

For more information about Dental Bridge Cost in Mexico, please click the button below to get a FREE quote!