Top Cities for Dental Tourism Mexico
Dental Tourism Mexico is the best choice if you want to get Dental Treatment from experienced specialists, while spending moments together with your family for a vacation and enjoying spectacular views and entertainment in Mexico.
Dental Work in Mexico
Dental Tourism Mexico is becoming a popular choice because many patients can benefit, one of which is being able to save more money on Dental Treatment, without sacrificing quality at all. You will also get the best medical services at Dental Clinic Mexico that prioritizes quality, affordability, and comfort for its patients. For those of you who live in the United States and its surroundings, of course this will be a short and inexpensive trip for Dental Work in Mexico. Patients from European, Asian, African and Australian countries can also try it.
Dentistry in Mexico: Is It Really Worth the Trip?
Before you go any further to plan Dental Tourism Mexico, of course you have to understand first, is Dental Vacation really worth the trip? As is known, data shows that more than 1,000,000+ patients from all over the world come to Mexico every year to undergo Medical Tourism and many people try to get information from Dental Tourism Agency Mexico. So that you can know whether Dental Tourism Mexico is right for you or not, know the pros and cons below:
Pros of Dental Tourism Mexico:
Cost Saving

Less waiting time

Geographical Proximity
Cons of Dental Tourism Mexico:
Not all Dentists are Well-Qualified

Language Barrier May Occur

No Insurance Coverage
Why Seek Treatment Abroad?
To answer this question, only you can know the answer. However, so far, many patients have undergone Dental Tourism Mexico and most of them feel great satisfaction, especially because of the affordable cost of Dental Treatment, complete facilities, and quality that is not inferior to Dental Treatment in the United States or Canada. You can get best Dental Procedures or Dental Surgery in Mexico in below:
Dental Procedures Available:
Top Dental Tourism Destinations in Mexico
When it comes to Dental Tourism Mexico, then you will have a wide choice of city options to explore. So that you can ensure you get the best Dentists in Mexico, make sure that you do your research online first, and study well the portfolio and track record of the Dental Clinic/Hospital that you will choose. The following is a list of some of the top cities for Dental Trips to Mexico that you can visit:
Cancun
Cancun is a city that is popular with medical tourists. Geographically, the city resembles the number seven, and is located on the southeast coast of Mexico, in the state of Quintana Roo.
Read More: Dental Tourism Cancun.
Tijuana
Tijuana is a metropolitan city in Mexico which is directly adjacent to San Diego, California, United States. Tijuana is an ideal location for Dental Tourism Mexico given the many stunning sights here.
Read More: Dental Tourism Tijuana.
Los Algodones
Los Algodones is known as the city of molars, which is located on the southwest part of the US-Mexico border. It is recorded that there are more than 120,000 Americans and Canadians who cross this border to undergo Dental Surgery.
Read More: Dental Tourism Los Algodones.
Cabo San Lucas
Los Cabos is also known as Los Cabo. The city is located at the tip of the Baja peninsula and can be accessed in just a few hours if you depart from the US or Canada. This destination is best for Dental Tourism Mexico.
Read More: Dental Tourism Cabo San Lucas.
Nogales
Nogales is one of the cities in the state of Mexico which is famous for its Dental Treatment. Nogales is also strategically positioned with the United States and is ready to serve patients from all over the world.
Read More: Dental Tourism in Nogales
Puerto Vallarta
Located in the Mexican state of Jalisco, this city is a beach town that has many attractive resorts and is perfect for enjoying unforgettable views. It is perfect place for Dental Tourism Mexico.
Read More: Dental Tourism in Puerto Vallarta.
Guadalajara
Guadalajara is one of the second largest cities in Mexico with a population of over 1.5 million people. The city is ranked eighth in the world as the most visited city for Dentistry Abroad.
Read More: Dental Tourism in Guadalajara.
Juarez
Ciudad Juarez is a US-Mexico border city that is very easy to reach by road, air, and so on. Please complete your Dental Procedures, then enjoy the rest of the day exploring the city.
Read More: Dental Tourism in Juarez.
Mexicali
Mexicali is a business and industrial city in Mexico and has an excellent reputation for hospitality and tourism, especially dental tourism. No wonder millions of people come to this place every year to undergo Dental Tourism, because of the convenience it provides.
Read More: Dental Tourism in Mexicali.
Other Popular Cities for Dental Tourism
• Mexico City
Mexico City is the largest city in Mexico, as well as being the nation's capital. This destination is also always crowded because of its easy access, especially if you use an airplane and get off at Mexico City Airport.
• Monterrey
Dental Tourism Mexico in Monterrey is a great idea because this is where you'll be able to stop in one of the most Americanized cities. It is also only 150 miles south of the Texas-Mexico border. Many tourists from Canada, America, and various countries in the world like to visit this city.
• Merida
Merida or commonly referred to as the white city is one of the destinations for Dental Tourism Mexico, which is located near the Gulf of Mexico, and is the capital of the Yucatan region. You can easily find the beauty of the beach scenery, as well as other interesting entertainment here.
• Nuevo Laredo
Nuevo Laredo is also very popular as Dental Tourism Mexico because it is easy to get to if you start your journey from Texas. This US-Mexico border city that is still thick with Mexican culture will provide easy access to the best and experienced dentists.
Cost of Dental Work in Mexico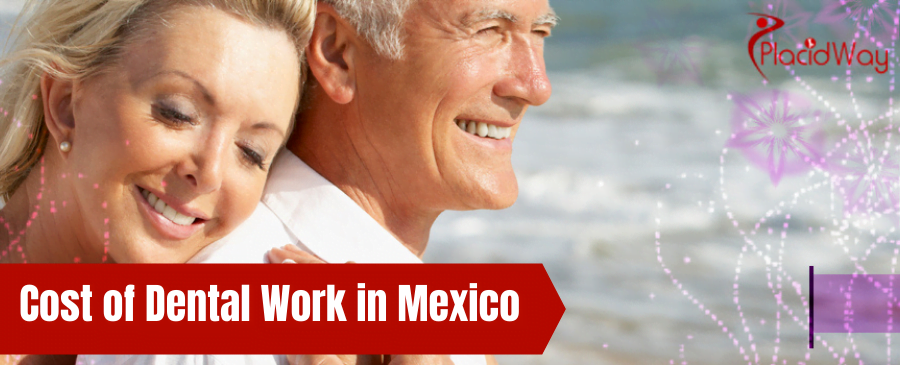 Check the table below for a reference on Dental Treatment Prices in Mexico. For more information, don't forget to contact the Customer Representative so you can get the updated Mexico Dental Prices available.
Dentist Price in Mexico – Full Treatment Cost Guide 2021
| | |
| --- | --- |
| All on 4 Dental Implants | $4,180 |
| All on 6 Dental Implants | $5,400 |
| All on 8 Dental Implants | $7,780 |
| Dentures | $65 |
| Teeth Whitening | $100 |
| Dental Fillings | $120 |
| Cosmetic Dentistry | $139 |
| Dental Implant | $149 |
| Dental Veneers | $320 |
| Dental Crowns | $347 |
Note: Prices can be vary and change at any time depending on the patient's condition. Make sure to follow Pricing Terms and Conditions of Dental Clinic in Mexico you choose.
FAQs about Dental Tourism Mexico
Find answers to frequently asked questions about Having Dental Work Done in Mexico below. Use this information as a reference so you don't make the wrong decision.
• How to Get Dental Work in Mexico?
You can get information about this easily through the internet, social media, and various other sources of information. However, the most important thing here is that you should contact the Dental Clinic first, and coordinate with the Medical Staff so that your Dental Vacation Plan goes perfectly and satisfactorily.
• How to Find a Good Dentist in Mexico?
Study well the profile or biography of the Dentists or International Dental Clinic Mexico City who will treat you. The more information you get, the better. From here you can determine whether Dentist in Mexico is suitable for what you need or not.
• Are Mexican Dental Facilities Reliable?
Yes, Mexico is one of the most appropriate destinations for those who want to do Medical Tourism. Apart from being affordable, a number of clinics have complete Dental Facilities that support the needs and comfort of their patients.
• Is it Safe to Get Dental Work in Mexico?
Yes, even it is very safe to do Dental Work in Mexico. Tens of thousands of patients from America have received Dental Treatment in this country, and there are many choices of the best clinics that are experienced in serving foreign dental patients.
• How to pay for Dental Work in Mexico
Generally, payments for Dental Work can only be made using cash. However, you can directly ask the Customer Support clinics in Mexico, if they provide payments via Credit Card, Insurance, and so on.
• Should I get Dental Work done in Mexico
Yes, there are millions of patients who come to Mexico every year to undergo Dental Tourism Mexico. However, you need to be selective in choosing the right clinic, and ensure that they have the equipment and facilities needed for complex procedures.
• Is Getting Dental Work in Mexico Safe
Yes, so that you can get comfortable during Dental Tourism Mexico, you can ask for some facilities, such as shuttles from the airport-hospital-hotel, as well as other additional facilities so that your security is guaranteed.
Foreign Embassies in Mexico
Here are the Foreign Embassies that you can find while undergoing Dental Tourism Mexico:
Paseo de la Reforma No. 305, Delegación Cuauhtemoc 06500 México, DF Mexico.

Schiller no. 529, Colonia Bosque de Chapultepec Polanco, Del Miguel Hidalgo, 11580 Mexico City, Mexico.
Tips for Smooth and Safe Dental Tourism Mexico Traveling
To ensure that you have a comfortable and safe Dental Tourism Mexico experience, be sure to apply the following tips:
Don't drive alone at night. If necessary use the toll road.

Prepare your visa and passport.

Create a checklist to find out what items you bring.

Choose a hotel or place to stay well in advance.

Make sure you choose a Dental Clinic that is credible, certified, and prioritizes patient satisfaction.
Are You Ready for Dental Tourism Mexico?
It's time to start your journey in the delightful Dental Tourism Mexico! Get the best offers for Dental Packages, clinic options and special prices by clicking the button below: