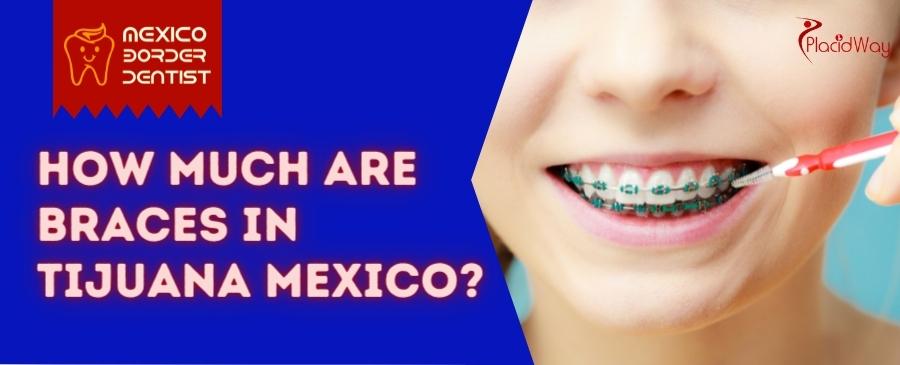 Average Cost and Top Clinics for Braces in Tijuana
The average price for Braces in Tijuana, Mexico starts at $515. Some clinics also offer international travelers packages that include a comprehensive range of healthcare services for international patients such as diagnostic needs, physician consultations, insurance, and billing assistance, travel and accommodations, language interpretation, and cultural mediation services.
The price varies depending on the complexity of the dental treatment or procedure, the materials and equipment use, the doctor and clinic that you choose, and many other factors. After the first consultation, the dentist will be able to tell you the final cost.
Taking care of your teeth is crucial, as they are the ones that help you eat and speak. Left untreated, teeth problems can lead to serious health issues such as respiratory conditions and even cardiovascular diseases.
If you do not know how to choose the best dentist for Braces in Tijuana, Mexico, here are some questions that will help you:
What are the advantages and disadvantages of Braces? What about the risks and complications?
Are you certified? Are you a member of any Dentistry association or society?
How many years of experience do you have performing Braces?
How often have you performed Braces?
What if something goes wrong during the Braces procedure?
What if I am not happy with Braces results?
Mexico has become one of the top choices when it comes to dental care. More and more dental tourists choose Mexico for its affordable prices, highly trained dentists, and modern dental clinics fitted with high-class equipment and laboratories.
Cost at Different Clinics for Braces in Tijuana
Dentalia Tijuana is located 15 minutes away from the border, in Galerias Hipodromo, one of the most exclusive malls in the city. The modern clinic offers safe and high-quality dental care with state of the art equipment.
We are working only with the highest quality materials and the latest technology. Dentalia Tijuana is one of the few dental clinics in Mexico which uses the Biomet 3i implants, used only by international renowned dental clinics.
Another thing that makes us unique is the latest technology CAD/CAM system, which our dentists use to make lava restorations with Lava zirconia. The medical staff at Dentalia Tijuana understands the patient's need to feel safe and to have access to quality dental care. Therefore we work only with high-quality materials and equipment, for the best results.
Amazing Smile Center, located in Tijuana, Mexico, is owned by Dr. Roberto Rivera, a renowned dental specialist with years of experience in this field. The clinic was opened in 2012 and since then it has offered high-quality dental care to numerous patients both local and international. The English-speaking medical team uses world-renowned branded materials and the latest technology in the pursuit of dental excellence.
Treatments offered by Amazing Smile Center Cosmetic Dentistry (Dental cleaning, fillings, extractions, tooth whitening, dental veneers) Dental implants Dental crowns Prosthodontics (Dentures) Orthodontics (Braces) Endodontics (Root canal) and Braces in Tijuana. If you need more information about the dental treatments and procedures offered by Amazing Smile Center
Advanced Smiles Dentistry is a comprehensive dental clinic in Tijuana in the heart of the amazing Zona Rio Medical District. Our goal is to make you feel at home away from home offering our best facilities, prices, qualified doctors, customer service, and quality service. At Advanced Smiles Dentistry, we understand that trust is extremely important. Our potential patients are typically concerned about not getting treated fairly when visiting a Dentist in Tijuana in Mexico.
They are concerned that they'll be charged more than what they were quoted or that they will be taken advantage of. offers the coordinated delivery of the total dental care required or requested by the patient. We give you the best service at this Tijuana Dentist office you never had in general, preventive, cosmetic, and restorative dental services.
If you need help with basic checkups and cleanings or something more advanced, we're prepared to help. will give you personalized care focused on your individual personal needs and especially we do everything to make you feel at ease comfortable during your visit.
Braces at Smile Builders (Tijuana): from $800
Smile Builders is one of the premier dental service providers located in Tijuana, Mexico. They are offering varied dental care services since 1991. Over the years, they have gained trust and respect from a huge number of patients for top-quality treatments and after-care services.
What people love about them is their clear pricing, easy schedules, and detailed explanation of treatment. They always work towards reaching a step further than the expectation of their patients. They offer dental care services for the entire family.
Both adults and children are given equal importance and personalized treatment responding to their requirements.  They use the most advanced technology so that the patients can enjoy the most comfortable dental care experience.