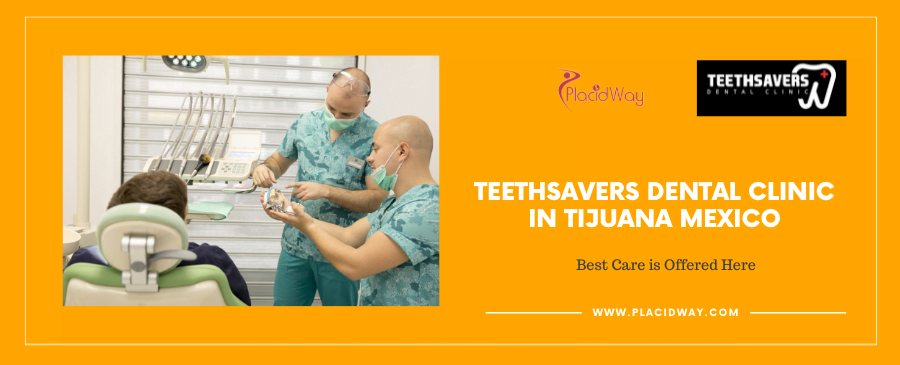 Teethsavers Dental Clinic in Tijuana Mexico
Hello, friend! Fancy a dental visit that feels more like a rejuvenating vacation? Let's transport you to Tijuana, Mexico, the home of Teethsavers Dental Clinic, where top-tier dental care meets a serene, holiday-like ambiance.
At Teethsavers, we believe dental care should never be a chore, which is why we've created a warm, welcoming environment that sweeps you away from the sterile clinical feel. Imagine the strum of a guitar replacing the whir of drills, the smell of fresh Mexican coffee replacing the typical antiseptic odor, and friendly conversation replacing clinical silence.
With our skilled team and cutting-edge technology, we provide not just exceptional dental care but a unique, soothing experience. We're not only about taking care of your teeth – we care about your overall well-being.
So, if you're looking to redefine your dental visit or want a Dental Implant, step into the world of Teethsavers Dental Clinic. Here, every appointment feels like a mini-getaway. And remember, we're not just committed to your smile, but also to ensuring it shines brighter than the Tijuana sun. Pack your toothbrush, and join us in our pursuit of transforming dental care. We look forward to meeting you!
Suite of Services at Teethsavers Dental Clinic, Tijuana
Stepping into the world of Teethsavers Dental Clinic, you'll find a plethora of treatments and procedures designed to cater to your every dental need. Our goal is to ensure your smile isn't just beautiful, but healthy too. Here's a quick glimpse into the spectrum of services we offer:
General Dentistry: At the heart of our practice, you'll find top-tier general dentistry. Whether it's routine cleanings, detailed examinations, fillings, dental implants, or extractions, we're here to ensure your oral health is always at its best. Prevention is better than cure, and we're here to help you avoid any dental predicaments.
Orthodontics: Longing for straighter teeth and a more aligned smile? Our orthodontic treatments are your answer. Whether you prefer traditional braces or wish to explore the world of clear aligners, we've got you covered.
Cosmetic Dentistry: If you're keen to add that extra sparkle to your smile, our cosmetic dentistry services are perfect for you. From teeth whitening procedures and veneers to dental implants, we're here to help you feel confident in your smile.
Periodontics: Our periodontal specialists are dedicated to ensuring the health of your gums and their supporting structures. Skilled in diagnosing and treating gum diseases, they're your allies in maintaining overall oral health.
Endodontics: If you're dealing with the discomfort of an infected tooth, our endodontics experts can help. We specialize in root canal treatments, utilizing advanced techniques to save your teeth and alleviate any associated pain.
Oral Surgery: From wisdom teeth extractions and dental implants to jaw surgeries, our experienced oral surgeons are equipped to handle a wide range of procedures, ensuring optimal outcomes and minimal discomfort.
At Teethsavers Dental Clinic, we're not just about treating teeth; we're about treating you. Our comprehensive range of services is designed to keep your smile radiant and your oral health in check. So, come join us and experience dental care like never before.
Why Choose Teethsavers Dental Clinic in Tijuana Mexico
Stepping into the world of Teethsavers Dental Clinic is like embarking on a journey where your dental well-being is our top priority. But why choose us? Here's a peek into what makes Teethsavers Dental Clinic stand out in the vibrant city of Tijuana, Mexico.
Patient-centric Approach: We believe in a personalized touch. From the moment you step into our clinic, your needs, comfort, and satisfaction are our main concern. We strive to provide care that is tailored to you, ensuring each visit leaves you with a brighter smile and a delightful experience.
Comprehensive Services: Our extensive range of services ensures we can cater to all your dental needs under one roof. Whether you require general dentistry, orthodontics, cosmetic procedures, periodontics, endodontics, or oral surgery, we have the expertise and the resources to deliver.
Expert Team: Our team of dedicated professionals is our pride. Skilled and experienced, they are committed to providing the highest standard of dental care. They stay updated with the latest advancements in dentistry to bring you the best in dental solutions.
Advanced Technology: We invest in cutting-edge dental technology, ensuring our patients benefit from the most modern, efficient, and least invasive treatments possible. This commitment to technology helps us provide more accurate diagnoses and efficient treatments.
Comforting Environment: We understand that a dental visit can be daunting. That's why we've created a comforting, serene atmosphere. Here, the whir of drills is replaced with soothing strums, and antiseptic odor gives way to freshly brewed Mexican coffee.
Affordability: Quality dental care shouldn't break the bank. We offer competitive prices without compromising on the standard of care, making top-tier dental services accessible to all.
Strategic Location: Nestled in the heart of Tijuana, we are conveniently located for both local residents and international visitors. The vibrant city offers an enjoyable experience that extends beyond your dental visit.
Choosing Teethsavers Dental Clinic means choosing exceptional dental care wrapped in an extraordinary experience. It's more than just a clinic – it's a haven for all your dental needs. Step into our world, and let us transform your dental journey. We look forward to welcoming you to our Teethsavers family!
The Teethsavers Dental Clinic Promise: Exceptional Patient Care
At the very core of Teethsavers Dental Clinic is an unwavering commitment to exceptional patient care. But what does that mean for you? Let's dive into the ways we ensure our patients receive nothing but the best.
Personalized Treatments: We understand that every patient is unique, and so are their dental needs. That's why our approach is rooted in personalization. We meticulously tailor treatment plans to suit your specific needs, preferences, and health goals, ensuring that you receive the most effective and appropriate care.
Comfortable Environment: We've redefined the typical dental clinic environment. Instead of cold, sterile surroundings, our clinic is a haven of comfort. Our warm and friendly staff, coupled with a soothing atmosphere, helps put your mind at ease. We want you to feel relaxed and at home during your visits.
Clear Communication: We believe in transparent, open dialogue. Our team takes the time to explain procedures, answer questions, and address concerns, ensuring you're well-informed and comfortable with your treatment plan. Your understanding and consent are vital to us.
Safety and Hygiene: Patient safety is paramount. We adhere to stringent sterilization and hygiene standards, employing modern protocols to ensure a clean, safe environment. We constantly monitor our practices to align with the latest safety guidelines.
Latest Technology: To provide the best possible care, we leverage the latest technology in dental medicine. Advanced diagnostic tools allow us to detect problems early and plan treatments accurately, ensuring effective, efficient, and less invasive care.
Ongoing Support: Our care extends beyond your appointments. We provide continuous support, guidance, and follow-up to ensure your oral health stays optimal. We're always just a call or message away to address your concerns.
Patient Education: We empower you to take control of your oral health. Through patient education, we equip you with the knowledge you need to make informed decisions about your dental care and maintain healthy habits at home.
Meet Your Dream Team at Teethsavers Dental Clinic, Tijuana
Behind every bright, healthy smile at Teethsavers Dental Clinic is a team of dedicated professionals working tirelessly to ensure the highest standard of care. Let us introduce you to the dream team that makes it all possible:
The Dentists: Our team of dentists is highly skilled and experienced in all aspects of general and cosmetic dentistry. They're the heroes behind the countless sparkling smiles that leave our clinic.
The Orthodontists: Our orthodontists are passionate about perfecting smiles. Whether through traditional braces or modern aligners, they work meticulously to ensure optimal alignment and function.
The Endodontists: Specializing in root canal treatments, our endodontists wield the latest techniques and technology to save teeth and alleviate pain, ensuring you enjoy a pain-free, healthy smile.
The Periodontists: Our periodontists focus on the health of your gums and supporting structures. They're skilled in diagnosing and treating gum diseases, making them your first line of defense against periodontal problems.
The Oral Surgeons: Experienced and highly skilled, our oral surgeons perform a wide range of procedures, from wisdom teeth extractions to complex jaw surgeries, with precision and care.
The Hygienists: Our dental hygienists are your champions of preventative care. They provide thorough cleanings, patient education, and early detection of potential dental issues.
The Support Staff: Last but certainly not least, our friendly support staff ensures every aspect of your visit runs smoothly. From scheduling appointments to managing records and handling queries, they're here to make your journey as seamless as possible.
This dynamic, multidisciplinary team collaborates to provide comprehensive dental care tailored to your unique needs. But they're not just experts in their fields; they're also deeply committed to creating a warm, welcoming atmosphere, helping you feel relaxed and at ease.
At Teethsavers Dental Clinic, we believe the strength of our team lies not only in their professional expertise but also in their commitment to patient care. Together, we strive to make your dental journey a pleasant, rewarding experience. We're more than just a team – we're a family. And we can't wait to welcome you to ours!
Book Appointment
Are you ready to experience dental care like never before? Ready to trade in the mundane for the extraordinary, the typical for the unique? If so, it's time to join the Teethsavers Dental Clinic family! Take the first step on your journey towards a healthier, brighter smile in the heart of Tijuana, Mexico. Click on the 'Contact Us' button now to schedule your visit.
Book your appointment now and let's create the perfect smile together!