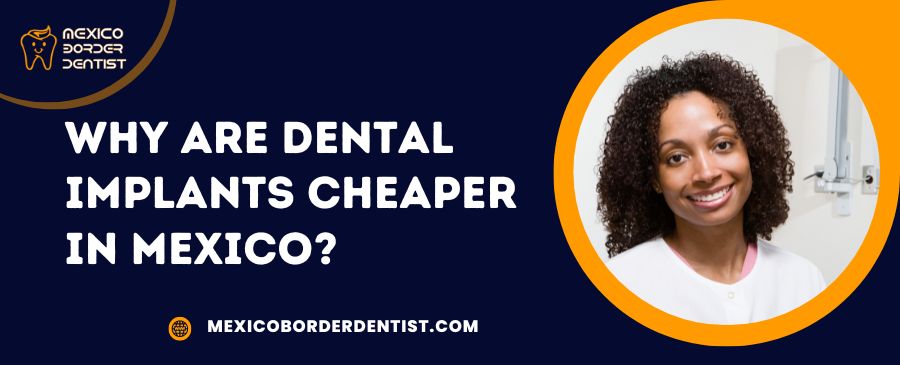 A Comprehensive Guide on Why Are Dental Implants Cheaper in Mexico?
Dental implants have become a popular solution for individuals with missing or damaged teeth. However, the high cost of dental implants in the United States can be a significant barrier for many patients. In recent years, an increasing number of people have been exploring alternative options, such as traveling abroad for more affordable dental care.
One such destination that has gained significant attention is Mexico. This article explores why dental implants are cheaper in Mexico and provides a comprehensive guide to help you make an informed decision about your dental care.
In this guide, we will discuss the ins and outs of dental implants, their costs in the US, and the factors that contribute to the lower prices in Mexico. We will also compare the quality and safety of dental implants in Mexico, provide information on popular dental tourism destinations within the country, and offer tips for preparing for your trip.
By the end of this article, you should have a clear understanding of the advantages and potential concerns surrounding dental implants in Mexico, as well as the resources to help you make the best decision for your dental health.
Understanding Dental Implants
Before delving into the reasons behind the affordability of dental implants in Mexico, it is essential to have a basic understanding of what dental implants are and the different types available. This section will provide an overview of dental implants, their components, and the procedure involved in placing them.
What Are Dental Implants?
Dental implants are artificial tooth roots, typically made of titanium, that are surgically inserted into the jawbone to replace missing teeth. They provide a strong and stable foundation for supporting dental prosthetics such as crowns, bridges, or dentures. Dental implants not only restore the appearance and function of missing teeth but also help preserve the jawbone and prevent further bone loss.
Types of Dental Implants
There are two main types of dental implants:
Endosteal implants: These are the most common type of dental implant, placed directly into the jawbone. After the surrounding gum tissue has healed, a second surgery is performed to connect a post to the implant, and finally, an artificial tooth is attached to the post.
Subperiosteal implants: These implants consist of a metal framework placed on top of the jawbone but below the gum tissue. As the gums heal, the framework becomes fixed to the jawbone, and posts attached to the frame protrude through the gums. The artificial teeth are then mounted to the posts.
The appropriate type of dental implant for each patient depends on factors such as bone density, overall health, and the specific dental issue being addressed.
The Dental Implant Procedure
The dental implant procedure typically involves multiple steps and may require several visits to the dentist. The stages of the procedure include:
Consultation: The initial consultation includes a thorough dental exam, medical history review, and discussion of the best treatment plan for the patient's needs.
Tooth extraction: If necessary, the damaged or decayed tooth is removed before implant placement.
Bone grafting: In cases of insufficient jawbone density, bone grafting may be required to create a solid foundation for the implant.
Implant placement: The dental implant is surgically inserted into the jawbone.
Healing and osseointegration: The implant fuses with the jawbone over several months, a process called osseointegration.
Abutment placement: The abutment, which connects the implant to the artificial tooth, is attached to the implant.
Crown placement: The artificial tooth or crown is securely fastened to the abutment.
The entire process can take anywhere from a few months to over a year, depending on the patient's specific needs and healing capabilities.
Why Are Dental Implants Cheaper in Mexico?
The cost of dental implants in Mexico is significantly lower compared to the US, making it an attractive option for many patients seeking affordable dental care. In this section, we will discuss the main factors contributing to the lower cost of dental implants in Mexico.
Lower Operating Costs
One of the primary reasons for the lower cost of dental implants in Mexico is the reduced operating expenses for dental clinics. Factors such as lower rent, lower labor costs, and more affordable equipment and materials contribute to these reduced operating costs. This allows dental clinics in Mexico to pass the savings on to their patients, resulting in lower prices for dental procedures, including implants.
Competitive Pricing
Dental tourism has become a significant industry in Mexico, with many clinics catering specifically to foreign patients, particularly from the US and Canada. The increased competition among dental clinics to attract these patients has led to more competitive pricing, making dental procedures more affordable for those seeking treatment.
Skilled and Experienced Professionals
Although the cost of dental implants in Mexico is lower than in the US, this does not necessarily mean a compromise in quality. Many Mexican dentists have received training in the US or other countries and possess the same level of expertise and skills as their American counterparts. In addition, Mexico has a robust dental education system, with many dental schools offering advanced training in dental implant procedures.
It is essential to research and choose a reputable dental clinic and dentist when considering dental implants in Mexico. By selecting a skilled and experienced professional, patients can receive high-quality dental care at a more affordable price compared to the US.
In summary, the lower cost of dental implants in Mexico can be attributed to reduced operating costs, competitive pricing, and the availability of skilled and experienced dental professionals. These factors make Mexico an attractive destination for patients seeking more affordable dental care without compromising on quality.
The Cost of Dental Implants in the US
Dental implants in the United States are known for their high cost, which can be a significant barrier for many individuals seeking this treatment. In this section, we will discuss the factors that affect the price of dental implants in the US and touch on the role of dental insurance in covering these costs.
Factors Affecting the Price
The cost of dental implants in the US varies depending on several factors, including:
Geographical location: Prices can differ significantly based on the cost of living and the level of competition among dental professionals in a specific region.
Type of implant: As mentioned earlier, there are different types of dental implants, and the cost will depend on the type chosen and the complexity of the procedure.
Material and brand: The material used for the dental implant and the brand reputation can also impact the cost.
Additional procedures: Some patients may require supplementary procedures, such as tooth extraction, bone grafting, or sinus lifts, which will increase the overall cost.
Dentist's experience and expertise: The level of expertise and experience of the dentist performing the procedure can influence the price.
Considering all these factors, dental implants in the US can cost anywhere from $3,000 to $6,000 per tooth, with some cases reaching up to $10,000 or more for a full set of teeth.
Dental Insurance and Implants
Dental insurance in the US often provides limited coverage for dental implant procedures. Many plans categorize dental implants as a "cosmetic" procedure and may not cover the full cost. Additionally, some insurance policies have a waiting period before coverage kicks in or annual maximums that limit the amount they will pay out.
It is essential to carefully review your dental insurance policy and discuss your coverage with your insurance provider before proceeding with dental implants. In some cases, patients may need to explore other financing options or consider traveling abroad for more affordable dental care, such as in Mexico.
Quality and Safety of Dental Implants in Mexico
When considering dental implants in Mexico, it's crucial to ensure that the quality and safety of the treatment are not compromised. This section will discuss the accreditation and certifications of dental clinics in Mexico, as well as provide dental tourism safety tips to help ensure a positive experience.
Accreditation and Certifications
Reputable dental clinics in Mexico often possess accreditation and certifications from international organizations. These include:
The American Dental Association (ADA): Although not all Mexican dentists are ADA members, some clinics have dentists who have completed their education or training in the US and have ADA membership. This ensures they adhere to the same standards as their US counterparts.
The Mexican Dental Association (ADM): Membership in the ADM demonstrates a commitment to maintaining high professional standards and following best practices in dental care.
International Congress of Oral Implantologists (ICOI): ICOI membership indicates that a dentist has completed advanced training in implant dentistry and is committed to ongoing education in the field.
When choosing a dental clinic for your implants in Mexico, look for these accreditations and certifications to ensure you receive high-quality care.
Dental Tourism Safety Tips
To ensure a safe and successful dental implant experience in Mexico, consider the following tips:
Research: Thoroughly research the dental clinic and dentist you plan to visit. Look for patient reviews, testimonials, and before-and-after photos to gauge their expertise and quality of work.
Verify credentials: Confirm the dentist's education, training, and experience, as well as any relevant certifications or memberships in professional organizations.
Communication: Choose a dentist with whom you can communicate effectively. Many dental clinics in Mexico have English-speaking staff to assist foreign patients.
Follow-up care: Discuss your follow-up care plan with the dentist, including any necessary appointments or potential complications that may require attention once you return home.
Travel insurance: Consider purchasing travel insurance that includes coverage for dental procedures to protect yourself in case of unforeseen complications or cancellations.
By following these safety tips and selecting a reputable dental clinic with accredited professionals, you can feel confident in the quality and safety of your dental implants in Mexico.