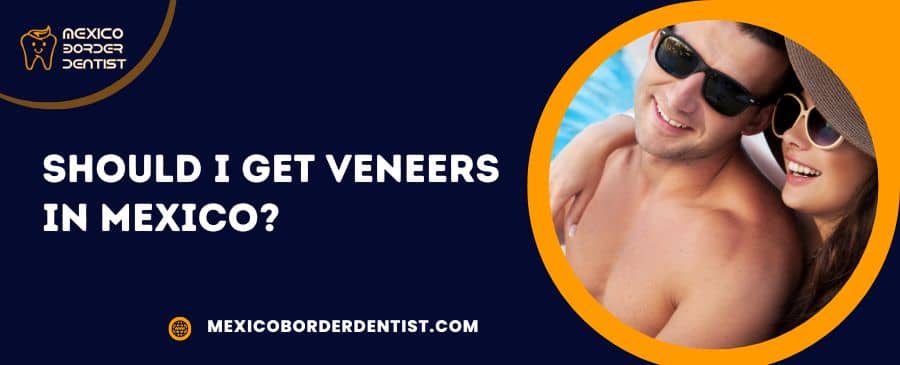 A Complete Guide about Should I Get Veneers in Mexico?
Are you dreaming of a dazzling smile that lights up a room? Dental veneers could be the answer you've been searching for. But here's a twist: have you ever considered getting veneers in Mexico? In this complete guide, we will explore the question, "Should I get veneers in Mexico?" and shed light on this increasingly popular option for those seeking affordable and high-quality dental treatments.
Dental veneers are a cosmetic dentistry solution that can transform your smile by covering imperfections and enhancing the appearance of your teeth. With the rising trend of dental tourism, many individuals are exploring the possibility of getting veneers in Mexico.
The combination of lower costs and renowned dental expertise in Mexico has made it an attractive destination for those seeking to enhance their smiles.
In this guide, we will delve into the factors to consider, the appeal of Mexican dental clinics, and provide you with the insights you need to make an informed decision about whether getting veneers in Mexico is the right choice for you. Let's embark on this exciting journey and discover the possibilities of achieving your dream smile south of the border.
Understanding Dental Veneers
Dental veneers are thin, custom-made shells that are bonded to the front surface of your teeth. They are designed to improve the appearance of teeth that are discolored, chipped, misaligned, or have gaps. Veneers can instantly transform your smile by creating a natural and symmetrical look.
Porcelain veneers are the most popular type of veneers due to their durability and lifelike appearance. They are made from high-quality ceramic material that mimics the color and translucency of natural teeth. Composite veneers, made from tooth-colored resin, are another option that can be more cost-effective but may not last as long as porcelain veneers.
The process of getting veneers typically involves multiple visits to the dentist. During the initial consultation, your dentist will evaluate your teeth, discuss your desired outcome, and determine if veneers are suitable for you.
Understanding the basics of dental veneers sets the foundation for exploring the option of getting them in Mexico. In the following sections, we will delve into the specific advantages, considerations, and steps involved in pursuing veneer treatments south of the border. So, let's continue our journey and unravel the allure of getting veneers in Mexico.
Should I Get Veneers in Mexico?
Should I Get Veneers in Mexico? Absolutely! Let's dive into the exciting world of dental makeovers south of the border and discover why Mexico is becoming the go-to destination for radiant smiles. Get ready to embark on a dental adventure that combines affordability, top-notch quality, and a vacation-worthy experience. Buckle up, because we're about to reveal the secrets to a dazzling smile that will make heads turn!
When it comes to veneers, Mexico has got it all – and we mean it! Picture this: jaw-dropping cost savings that will make your wallet jump with joy. We're talking about affordable prices that won't leave your bank account crying for mercy. By choosing veneers in Mexico, you can save some serious cash without compromising on the quality of care.
But hold on, it's not just about the price tag! Mexican dental clinics have been making waves in the industry with their reputation for excellence. These clinics are home to experienced and skilled dentists who know their way around transforming smiles. They're like smile architects, using the latest dental technologies to craft your dream smile with meticulous precision.
Oh, did we mention the perks of a Mexican getaway? Imagine strolling along breathtaking beaches, immersing yourself in vibrant culture, and savoring mouthwatering cuisine – all while getting your dream smile. It's like a dental vacation, where you can bask in the sun and return home with a smile that shines brighter than a Cancun sunset.
Now, we know what you're thinking – language barriers? No problem! Many Mexican dental clinics are well-equipped with bilingual staff, ready to cater to your every dental need. Effective communication is key to achieving your desired results, and these clinics have you covered.
| Factors to Consider | Veneers in Mexico | Veneers in Home Country |
| --- | --- | --- |
| Cost | Significantly lower | Higher |
| Quality of Dental Care | Excellent reputation | Established standards |
| Dentist Experience | Skilled and experienced | Well-trained |
| Travel Logistics | Potential vacation | Convenience |
| Language and Communication | Bilingual staff | Native language |
| Personal Consultations | Available and convenient | Local appointments |
So, If you're looking for affordability, quality care, and a chance to indulge in a fabulous vacation, then the answer is a resounding YES! Mexico is your golden ticket to a radiant smile that will make you the envy of all. So, pack your bags, grab your toothbrush (and maybe some sunscreen), and get ready for a dental journey like no other. Mexico is waiting to give you the smile of your dreams – and a vacation to remember!
The Appeal of Getting Veneers in Mexico
In recent years, Mexico has emerged as a sought-after destination for dental tourism, and getting veneers in Mexico has become increasingly appealing for several reasons.
Cost Savings: One of the primary draws of seeking dental treatments, including veneers, in Mexico is the significant cost savings. The cost of dental procedures in Mexico can be substantially lower compared to countries like the United States, Canada, or the United Kingdom. This affordability opens up opportunities for individuals who may have found veneers financially out of reach in their home countries.
High-Quality Dental Care: Despite the lower costs, Mexican dental clinics are renowned for providing high-quality dental care. Many dental professionals in Mexico have received their education and training from reputable institutions and adhere to rigorous international standards. They often stay up to date with the latest advancements in dental technology and techniques to deliver top-notch treatments.
Experienced and Skilled Dentists: Mexican dentists are known for their expertise and experience in performing dental procedures, including veneer placements. They have honed their skills by serving a diverse clientele and performing numerous successful veneer treatments. Many dentists in Mexico also undergo ongoing training and professional development to stay at the forefront of their field.
State-of-the-Art Facilities: Dental clinics in Mexico often boast modern, state-of-the-art facilities equipped with advanced dental technologies. These clinics maintain strict sterilization protocols and follow international standards of hygiene and safety. Patients can expect a comfortable and cutting-edge environment that promotes optimal dental care.
Shorter Wait Times: Another advantage of getting veneers in Mexico is the shorter wait times for appointments and treatments compared to some other countries. Mexican dental clinics often offer flexible scheduling options and can accommodate patients promptly, allowing for faster access to the treatment you desire.
Beautiful Vacation Destination: Choosing Mexico for veneer treatments not only offers exceptional dental care but also provides an opportunity to experience a vibrant and culturally rich vacation destination. Mexico is renowned for its stunning beaches, historical sites, and warm hospitality, allowing you to combine dental treatments with an enjoyable getaway.
While the appeal of getting veneers in Mexico is evident, it's crucial to conduct thorough research and choose a reputable dental clinic that aligns with your specific needs and preferences.
In the following sections, we will delve deeper into the factors you should consider and the steps involved in making an informed decision about pursuing veneer treatments in Mexico. So, let's explore the possibilities and uncover the secrets to achieving a radiant smile in this captivating country.
Factors to Consider – Why Veneers in Mexico
Before embarking on your journey to get veneers in Mexico, it's important to consider several factors that can help you make an informed decision.
Cost Comparison: One of the primary factors that make getting veneers in Mexico appealing is the significant cost savings compared to many other countries. Dental treatments, including veneers, in Mexico can be substantially more affordable due to lower operating costs and currency exchange rates. By choosing Mexico, you can potentially save a considerable amount of money without compromising on quality.
Reputation and Accreditation: When considering veneer treatments in Mexico, it's crucial to research the reputation and accreditation of dental clinics and dentists. Look for clinics that have a solid track record of positive patient experiences and reputable certifications. International accreditations, such as those from the American Dental Association (ADA) or the Joint Commission International (JCI), can provide reassurance regarding the quality of care provided by the dental clinic.
Quality of Dental Care: Despite the cost savings, it's essential to ensure that the dental care you receive in Mexico meets high standards. Research the qualifications and experience of the dentists and dental staff at the clinics you are considering. Look for testimonials, reviews, and before-and-after photos to gauge the quality of their work. Many Mexican dentists undergo rigorous training and stay updated with the latest advancements in dental technology, ensuring that you receive excellent dental care.
Travel Logistics: When planning to get veneers in Mexico, consider the logistics involved in traveling to and from the country. Research transportation options, including flights, and explore the accessibility of the dental clinic from major airports. Additionally, consider accommodation options near the clinic to ensure convenience during your treatment period. It's important to factor in these logistics to ensure a smooth and hassle-free experience.
Language and Communication: While many dental clinics in Mexico have English-speaking staff, it's essential to consider any potential language barriers. Confirm that the dental clinic you choose has bilingual staff or interpreters available to facilitate effective communication during your consultations and treatment. Clear communication ensures that your expectations are understood and met throughout the veneer process.
Personal Consultations and Virtual Assessments: To ensure that veneers are the right option for you, many Mexican dental clinics offer personal consultations or virtual assessments. These consultations allow you to discuss your goals, ask questions, and address any concerns you may have. Personal consultations provide an opportunity to evaluate the clinic's professionalism, expertise, and compatibility with your specific needs.
By carefully considering these factors, you can make an informed decision about whether getting veneers in Mexico is the right choice for you. In the following sections, we will delve deeper into selecting the right dental clinic, the treatment experience, and aftercare to guide you through this exciting dental journey. So, let's continue exploring the world of veneers in Mexico and uncover the possibilities of achieving your dream smile.
Final Advice
So, should you get veneers in Mexico? Absolutely! Embrace the affordability, quality care, and adventure that await you. Choose Mexico as your dental destination and prepare for a radiant smile that will light up your world.
Let Mexico be the backdrop of your transformation, where your dental dreams come true. Say "adiós" to any hesitations and "hola" to a new smile that will leave you beaming with confidence. ¡Vamos! Your journey to a dazzling smile begins in Mexico.