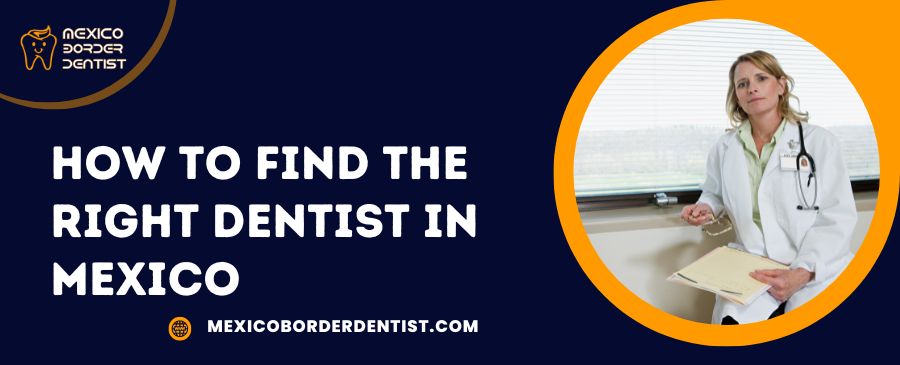 How to Find the Right Dentist in Mexico
Finding the right dentist in Mexico can be a daunting task, but it's not impossible. Mexico has a booming dental tourism industry, with thousands of people flocking to the country every year to take advantage of its affordable dental services. However, with so many dentists to choose from, it can be difficult to know where to start. Don't worry, though – we've got you covered. In this article, we'll give you some tips on how to find the right dentist in Mexico, so you can get the care you need without breaking the bank.
Do Your Research
The first step in finding the right dentist in Mexico is to do your research. Thanks to the internet, it's easier than ever to find information on dentists in Mexico. Start by searching for dentists in the city where you'll be staying. Look for websites or online directories that list dentists in the area, and read reviews from previous patients. You can also check social media platforms for recommendations from friends or family members who have had dental work done in Mexico.
Look for Accreditation
Once you've found a few potential dentists, it's important to check if they are accredited. In Mexico, dentists are accredited by the National Council of Dental Education (CONAED). This accreditation ensures that the dentist has received the proper education and training to provide safe and effective dental care. You can check if a dentist is accredited by visiting the CONAED website.
Check for Specializations
Dentists in Mexico often specialize in certain areas of dentistry, such as orthodontics or cosmetic dentistry. If you need a specific type of dental treatment, make sure to look for a dentist who specializes in that area. This will ensure that you get the best possible care for your specific needs.
Consider Location and Accessibility
When choosing a dentist in Mexico, it's important to consider the location and accessibility of their office. Make sure the office is located in a safe and convenient area, and that it's easy to get to from your hotel or other accommodations. If you'll be traveling with a companion or family members, make sure the office is large enough to accommodate everyone comfortably.
Check for English-Speaking Staff
If you don't speak Spanish, it's important to find a dentist with English-speaking staff. This will ensure that you can communicate effectively with the dentist and understand any instructions or information they give you. Many dentists in Mexico have staff who speak English, so make sure to ask about this when researching potential dentists.
Ask About Prices and Payment Options
One of the biggest advantages of getting dental work done in Mexico is the affordability. However, prices can vary widely depending on the dentist and the type of treatment you need. Make sure to ask about prices upfront, and get a written estimate before agreeing to any treatment. You should also ask about payment options, such as cash or credit card, and if the office accepts insurance.
Schedule a Consultation
Before committing to any dental treatment, it's a good idea to schedule a consultation with the dentist. This will give you a chance to meet the dentist in person, ask any questions you have, and get a feel for the office and staff. During the consultation, the dentist will also examine your teeth and discuss any recommended treatments.
Consider the Technology and Equipment Used
When researching potential dentists in Mexico, it's important to consider the technology and equipment they use. Look for dentists who use modern, up-to-date equipment and technology, such as digital X-rays and CAD/CAM systems. This can ensure that you receive the best possible care and treatment.
Check for Aftercare and Follow-Up
Before committing to any dental treatment in Mexico, it's important to ask about aftercare and follow-up. Find out what kind of support and follow-up care the dentist offers after the procedure, and make sure you're comfortable with their approach. This can include things like follow-up appointments, phone consultations, or email support.
Don't Sacrifice Quality for Cost
While affordability is certainly a big draw of dental tourism in Mexico, it's important not to sacrifice quality for cost. Make sure you're choosing a dentist based on their qualifications, experience, and reputation, not just their prices. Saving money is important, but it shouldn't come at the cost of your oral health and well-being.
In conclusion, finding the right dentist in Mexico requires some research and due diligence. By following these tips, you can find a qualified, affordable dentist who meets your specific needs. Remember to do your research, check for accreditation and specialization, consider location and accessibility, look for English-speaking staff, ask about prices and payment options, and schedule a consultation before committing to any treatment. With the right dentist by your side, you can get the dental care you are looking for.