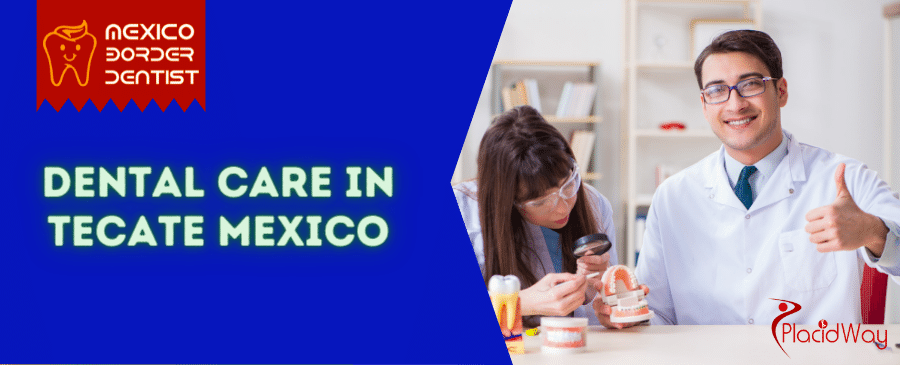 Dentist in Tecate Mexico – The Ultimate Guide
A brief description of the Dental Care in Tecate Mexico
Tecate is a small city located northwest of Mexico. While Tecate is known outside of metropolitan San Diego–Tijuana for its beer, rugged terrain and vineyards, Tecate's nearness to the US makes it another destination for North American retirees to consider for medical and dental care.
GPS Coordinates of Tecate:
Location of Tecate within Mexico is: 32 degrees 34′ 20″ north 116 degrees 38′ 25″ west.
Weather:
Tecate has a Mediterranean climate with dry, mild summers and cool, rainy winters. January is the coolest month while August is the warmest.
Currency:
The legal currency is Mexican Pesos but the US Dollar is widely accepted and used.
Language:
Spanish is the main language but English is also spoken.
Travel from Tijuana, San Diego and Ensenada
TRAVELING BY PLANE: 
Get to Tecate by flying to Tijuana. Tijuana International is the closest airport than Mexicali International. From there, you can travel by land through rented cars.
TRAVELING BY LAND:
The border crossing going to Tecate is 40 miles East of Tijuana. From Tijuana Airport, head to the toll road that parallels with Mexico Hi-way 2, 30 miles to the east. Then from Hi-way 2, this leads east 80 miles to Mexicali thru the Rumorosa Grade. By taking this route, expect scenic drives with much shorter queues at the border.
Car Rental vs. Walking across the border
Crossing the border 

      
Crossing the border in Tecate is the easiest to get back to the US as it is less crowded compared to Otay Mesa and San Ysidro border crossings. You will have a long drive from Tijuana, but it can save you more time as it has lesser queues.
Another to take note of is the hours the border operates as some are not open for 24 hours.
WHERE TO STAY  FOR DENTAL CARE IN TECATE MEXICO

Hotel accommodations in Tecate are unique and will bring out the outdoor enthusiast in you. Learn More
Dental Care in Tecate Mexico
Why Choose Dentist in Tecate Mexico?
Most US citizens based in Rosarito refer to Tecate as "San Diego South," as it is just a 45-minute drive (20 miles) from San Diego to Tecate. For Californian retirees not wanting to venture too far for medical and dental care, Tecate would be a good destination to explore.
Many backpackers and tourists cross the border from the US to Tecate because of the convenience and accessibility reasons – aside from dental and medical work-ups, which is considerably affordable in most border cities of Mexico.
The best time to visit a dentist in tecate mexico would be any time as they are available all year-round.  However, take advantage of the off peak season, where you can avail cheaper hotels and flights.
Dentist in Tecate Mexico specialize in dental services and work-ups like placement of dental veneers crowns, and implants, teeth cleaning, fillings and teeth extractions.
For more details, Contact Us