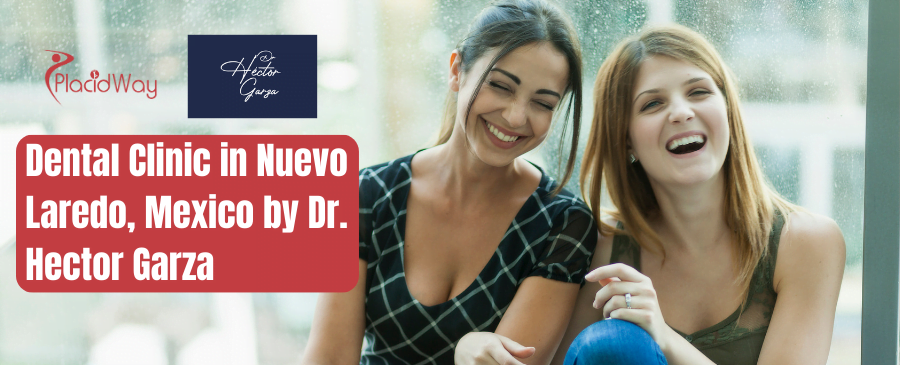 Dr. Hector Garza Lazarini – A Renowned Dentist in Nuevo Laredo, Mexico
Dr. Hector Adrian Garza Lazarini is a well-known and highly respected dentist based in Nuevo Laredo, Mexico. With his exceptional dental skills and unwavering dedication to patient care, Dr. Garza has earned a stellar reputation in the field of dentistry. His passion for delivering top-notch dental services has led him to establish a reputable dental clinic that caters to the needs of both local residents and patients from the neighboring United States. With years of experience under his belt, Dr. Garza ensures that his patients receive comprehensive and personalized care for all their dental needs.
Dr. Hector Garza's State-of-the-Art Clinic in Nuevo Laredo
Nestled in Nuevo Laredo, Dr. Hector Garza's dental clinic stands as a beacon of modern dentistry, offering a state-of-the-art facility that exemplifies excellence. The clinic's contemporary design and thoughtfully designed treatment rooms create a comfortable and inviting atmosphere for patients. Dr. Garza takes pride in incorporating the latest dental technology into his practice, utilizing cutting-edge equipment such as digital X-rays and laser dentistry. These advanced techniques allow him to provide precise diagnoses and deliver effective treatments, ensuring that his patients receive optimal results and experience the pinnacle of dental care.
Dr. Hector Garza's Comprehensive Dental Care in Nuevo Laredo
Step into Dr. Hector Garza's dental clinic in Nuevo Laredo and discover a world of comprehensive dental services tailored to meet every patient's unique needs. With a commitment to excellence, Dr. Garza and his skilled team offer a wide range of treatments, from routine check-ups and cleanings to advanced procedures like cosmetic dentistry, dental implants, porcelain veneers, dental crowns, dental bridges, dentures, and teeth whitening. With a focus on enhancing oral health and restoring beautiful smiles, Dr. Garza's clinic is dedicated to delivering personalized and transformative dental experiences for each patient, ensuring they leave with confidence and renewed vitality.
Bilingual Staff and Border Proximity at Dr. Hector Garza's Clinic
Choosing Dr. Hector Garza's dental clinic in Nuevo Laredo offers patients a remarkable advantage: a bilingual staff committed to clear communication and exceptional care. Fluent in both English and Spanish, the team ensures that patients from Mexico and the United States feel comfortable and understood throughout their dental journey. This seamless language support fosters trust and enables patients to express their concerns and preferences effortlessly. Furthermore, the clinic's strategic location near the U.S.-Mexico border provides a convenient solution for individuals seeking accessible and affordable dental care without venturing far from Texas.
Affordable High-Quality Dental Care
Dr. Hector Garza firmly believes that exceptional dental treatments should be accessible to all, without compromising on quality. At his clinic, patients can experience the perfect blend of affordability and excellence. Dr. Garza is dedicated to providing competitive pricing for a comprehensive range of dental treatments, making his clinic a sought-after choice for those seeking cost-effective solutions for their oral health needs.
Personalized and Tailored Dental Care for Your Smile
At Dr. Hector Garza's esteemed dental clinic, each patient is treated with the utmost care and attention, receiving personalized treatment plans crafted to meet their individual dental requirements. Driven by a patient-centric philosophy, Dr. Garza takes the time to understand the oral health goals and concerns of each individual. By gaining a comprehensive understanding of the patient's unique needs, Dr. Garza develops customized treatment plans that address their specific requirements.
Dedication to Patient Satisfaction and Long-Term Oral Health
Dr. Hector Garza's unwavering commitment lies in ensuring not only patient satisfaction but also long-term oral health. With a focus on preventive dentistry, his clinic emphasizes the importance of regular check-ups and patient education as key factors in maintaining healthy smiles. Dr. Garza and his dedicated team place great value on building strong and lasting relationships with their patients, fostering an environment of trust and open communication. Combining their expertise with a patient-centered approach, Dr. Garza and his team strive to deliver exceptional dental care that goes above and beyond expectations.
To take the first step towards receiving exceptional dental care in Nuevo Laredo, Mexico from Dr. Garza and his team, simply click the "Contact Us" button below. Our knowledgeable representatives will promptly assist you in arranging your appointment and addressing any concerns.