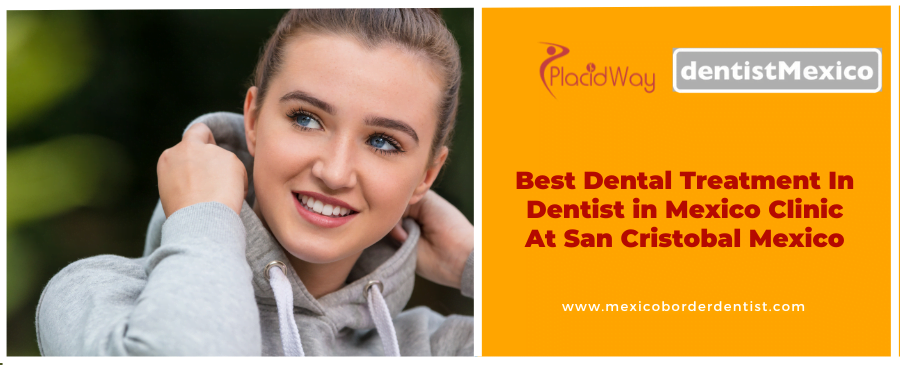 Dentist in Mexico Clinic in San Cristobal, Mexico
Stepping into the welcoming premises of Dentist in Mexico in San Cristobal is not just about seeking dental care; it's about embracing a journey towards genuine smiles and renewed confidence. Nestled in the heart of the vibrant city of San Cristobal, Mexico, this clinic embodies the spirit of compassionate dental care, ensuring that every patient feels heard, understood, and cared for. Dentist in Mexico isn't just a dental clinic; it's a haven where oral health meets heart, and science synergizes with empathy.
The story of Dentist in Mexico resonates with the desire to offer world-class dental care while keeping the humane touch alive. Here, patients don't just get treatments; they experience transformative dental journeys, surrounded by a team that understands the emotional gravity behind every dental concern.
Our Services at Dentist in Mexico Clinic in San Cristobal, Mexico
San Cristobal's Dentist in Mexico Clinic is a sanctuary for those seeking impeccable dental care. This renowned clinic isn't just a facility; it's a commitment to dental excellence, blending cutting-edge technology with profound expertise. Whether you're looking to enhance your smile's aesthetics or address fundamental dental concerns, the extensive suite of services ensures all your needs are covered under one roof.
Dentistry: Our core service revolves around comprehensive dental care, from routine check-ups and cleanings to in-depth consultations. Our team ensures that your oral health remains in its prime, laying the foundation for all our specialized services.
Dental Implants: Missing a tooth or several? Our dental implant solutions provide a permanent, sturdy, and natural-looking replacement. Crafted with precision, these implants restore functionality and aesthetics, giving you the confidence to smile again.
Teeth Whitening: Brighten up your smile with our advanced teeth whitening procedures. Utilizing safe and effective methods, we promise a radiant transformation, ensuring your pearly whites shine their brightest.
All on 4 Dental Implants: An innovative solution for those missing all teeth in the upper or lower jaw, the All on 4 system offers a fixed full-arch prosthesis on just four implants. It's a quicker, cost-effective alternative to traditional implants.
Cosmetic Surgery: More than just dental care, we offer cosmetic dental surgeries aimed at enhancing your overall facial aesthetics. Whether it's reshaping gums or realigning teeth, our cosmetic solutions promise a rejuvenated appearance.
General Dentistry: From fillings and extractions to root canals, our general dentistry services address the common dental issues that affect our patients. With a focus on preventative care, we ensure you're safeguarded against potential dental problems.
Dental Crowns: For teeth that are chipped, decayed, or damaged, our dental crowns provide the perfect restoration. Custom-made to fit seamlessly with your natural teeth, they restore both function and appearance.
Dental Veneers: Transform your smile with our premium dental veneers. Tailored to suit your unique facial features, veneers offer a quick fix for discolored, misshapen, or misaligned teeth.
And More: Our commitment is to holistic dental well-being. Hence, we constantly expand our services to include the latest treatments and procedures in dental care. Whatever your oral health concern, at Dentist in Mexico Clinic in San Cristobal, you're in capable hands.
Every service we offer is a testament to our dedication, ensuring that every patient leaves our clinic with a brighter, healthier smile. Come, experience dental care like never before.
Why Choose Dentist in Mexico Clinic in San Cristobal, Mexico?
Choosing a dental clinic goes beyond looking for expertise; it's about trust. At Dentist in Mexico, the team understands the apprehensions patients might have. Their commitment to transparent communication, coupled with unparalleled dental proficiency, sets them apart.
Furthermore, the clinic's location in San Cristobal, a city known for its rich cultural heritage and warmth, reflects in its approach. The fusion of advanced dental techniques with San Cristobal's inherent warmth gives patients a unique and comforting experience. Choosing Dentist in Mexico is, thus, choosing unparalleled care in the heart of Mexico.
Healthcare Professionals at Dentist in Mexico in San Cristobal, Mexico
At Dentist in Mexico in San Cristobal, it's not just about the state-of-the-art equipment or the serene ambiance. It's about the people, the professionals who are the heartbeat of our clinic. Their combined expertise and commitment to patient care have positioned us as a leading dental facility in Mexico. Let's introduce you to the remarkable individuals behind those rejuvenated smiles, The Top 6 Dentists in San Cristobal, Mexico:
1. Dr. José Bermudez Pascacio:
A master of his craft, Dr. Pascacio brings a wealth of experience in Dental Prosthesis, Dental Implants, and Dental Aesthetics. His meticulous approach ensures that each patient receives a customized treatment plan, tailored to their unique dental needs.
2. Dr. Jose Bermudez Zenteno:
Bright smiles are Dr. Zenteno's specialty. As our Teeth Whitening Specialist, he employs cutting-edge techniques to bring a radiant transformation to your smile, ensuring you leave our clinic with confidence.
3. Dra. Alejandra Zuñiga Navarro:
Endodontics is a field that requires precision, and that's precisely what Dra. Navarro brings to the table. Her expertise ensures that patients with deep-rooted dental issues find relief and restoration under her care.
4. C.D.E.O. Anissia Isabel Fernández Sedas:
The alignment of teeth plays a crucial role in one's smile and overall dental health. As our Orthodontics Specialist, C.D.E.O. Sedas takes pride in ensuring patients leave with straightened teeth, optimal bite, and a harmonious smile.
5. C.V. Dr. Víctor Alfonso Martínez Oseguera:
Oral surgery can seem daunting, but under the skilled hands of Dr. Oseguera, patients feel at ease. His vast experience in Oral Surgery ensures that whether it's extractions, reconstructions, or other intricate procedures, patients are in the best care.
6. C.V. Adriana María Blanco Rincón:
Gums are the foundation of our teeth. As our Periodontics Specialist, C.V. Rincón focuses on ensuring the health and well-being of this critical aspect of oral health. From treating gum diseases to preventive care, she stands as a beacon of gum health in our clinic.
The collective expertise of our esteemed professionals ensures that every aspect of dental care is covered with finesse. Their dedication, combined with our clinic's ethos, guarantees that when you choose Dentist in Mexico in San Cristobal, you're choosing unparalleled care.
Holistic Approach to Wellness
At Dentist in Mexico, the belief is firm that oral health is intrinsically linked to overall well-being. Hence, the clinic's approach isn't just about fixing teeth but ensuring a holistic improvement in quality of life. The team spends time understanding each patient's lifestyle, habits, and concerns, which aids in offering personalized care plans.
This holistic approach means patients don't just achieve great oral health, but they also get educated about maintaining it, ensuring that their smiles remain radiant and their health, optimal. In a world of mechanized treatments, Dentist in Mexico remains a beacon of holistic wellness, where every patient is treated as a unique individual, deserving of comprehensive care.
Book Appointment Now!
Don't delay the dental care you deserve. Our team of seasoned professionals at Dentist in Mexico in San Cristobal is eager to welcome and assist you on your journey to a radiant smile. Click below and take the first step towards optimal dental health.